What are CS:GO Skins?
CS:GO skins were introduced to CS:GO as part of the Arms Deal update back in August 2013. They were originally known as 'finishes' before Valve officially adopted the term 'Skins'. A skin is a cosmetic pattern applied to the surface of a weapon.
---
How to obtain CS:GO skins
CS:GO skins can be obtained in multiple ways from trading with other players, to receiving a free drop each week for Prime players.
In-game Weekly Drop
Players with Prime status are eligible to receive either a skin or graffiti drop once per week when they rank up their Profile Level (not the matchmaking rank).
A random skin from one of the Active Collections listed below can be dropped to players as part of their weekly drop. The weekly drop scheme resets every Wednesday.
Opening Weapon Cases
Weapon Cases, also known as Containers are items which are dropped to players with Prime Status at the end of a match. They usually drop up to three times per week but this can vary from player to player.
Each weapon case requires a matching key to open. When opening a weapon case a skin is chosen at random and placed in the players inventory.
The following weapon cases are available as drops to Prime players only:
Steam Community Market
Skins and other CS:GO items such as knives, gloves, stickers and more can be purchased and sold between players via the Steam Community Market. For CS:GO items, Valve takes a 15% fee off every transaction a seller makes.
Trading
You can trade skins with another player using the trade functionality within the Steam Community. Be aware that all trades are final and can not be reversed.
Third Party Marketplaces
A variety of third party marketplaces exist to allow players to buy, sell or trade their CS:GO skins in exchange for a bank balance which can be withdrawn into a bank account or equivalent service (e.g. PayPal).
An example of these marketplaces is Skinport.com
If you are tight on cash, make sure to checkout vLoot.io as they offer you some great methods to earn Free CSGO Skins easily.
---
Wear Quality
Each CS:GO skin has a wear quality ranging from Factory New to Battle-Scarred. The wear qualities are Factory New, Minimal Wear, Field-Tested, Well-Worn and Battle-Scarred.
A decimal range from 0.00 to 1.00 determines the wear quality of the skin.
| Wear Quality | Float Range |
| --- | --- |
| Factory New | 0.00 - 0.07 |
| Minimal Wear | 0.07 - 0.15 |
| Field-Tested | 0.15 - 0.38 |
| Well-Worn | 0.38 - 0.45 |
| Battle-Scarred | 0.45 - 1.00 |
A skin that is Factory New has a clean print with little to no distortion or damage to the skin pattern on the weapon. By contrast, a Battle-Scarred skin will either have much of the skin pattern chipped off or appear dirty/faded to mimic the apperance of a weapon that has not been cleaned or maintained properly.
Not all skins are available in every wear quality. For example, the AWP Asiimov is only available in Field-Tested, Well-Worn and Battle-Scarred. Despite this, the Field-Tested variant appears aesthetically as if it were Factory New.
---
What is Skin Rarity?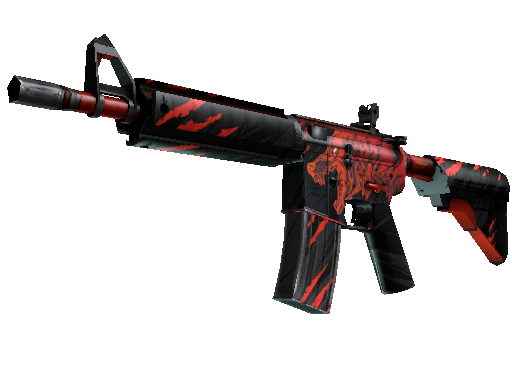 Rarity (officially known as 'Weapon Quality') usually signifies a skins rarity and value. The most common skins are assigned the Consumer rarity whereas the rarest skins are assigned the Covert rarity.
The only non-obtainable skin rarity is 'Contraband'. This rarity has only ever been assigned to the M4A4 | Howl due to a DMCA notice relating to copyright infringement. This skin can now only be obtained through trading or the Steam Community Market.
| Quality | Definition | Colour |
| --- | --- | --- |
| Consumer | Common | White/Grey |
| Industrial | Un-common | Light blue |
| Mil-spec | Rare | Dark blue |
| Restricted | Mythical | Purple |
| Classified | Legendary | Pinkish purple |
| Covert | Ancient | Red |
| Contraband | Immortal | Brown |